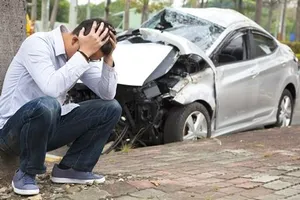 Chiropractic Care for Auto Injuries

Did you know that your automobile insurance will likely cover chiropractic care? If you live in the Fort Lauderdale area—Wilton Manors, Lazy Lake, Oakland Park, Dania Beach, or Lauderdale-By-The-Sea—and you need chiropractic care to treat an auto accident, call us as soon as you can! Our caring staff is happy to work you into the schedule right away, and we are available to take your call 24 hours a day.
---
Get a Full Spinal Examination Immediately
Even if you don't have any neck or back pain, you may still be injured. It can take weeks before an injury manifests as pain, and if you aren't examined and treated, your injury may get worse. A collision at just 5 mph can result in a permanent injury, so play it safe and get examined.
Chiropractic care is designed to treat and heal neck and back injuries, making it the most effective option for auto or boat accident injuries.
Whiplash happens when the neck (cervical vertebrae) is injured by the rapid acceleration or deceleration that happens during an auto accident. Whiplash can also occur during boating collisions. Collisions from the rear end, front end, or side can all result in whiplash, resulting in many symptoms:
Neck pain
Shoulder pain
Headaches
Arm pain
Numbness and tingling in the arms and hands
Nausea
Digestive difficulty
Low back pain
Constipation
Diarrhea
Sciatica
Knee pain
Sleep difficulty
Trust Dr. Cohen and his Caring Staff

Once we complete your initial exam, your pain specialist will listen to your concerns and find the source of your pain and discomfort. Your pain may feel like it is radiating, shooting, deep, nagging or throbbing.
After a thorough examination, the team will work with you to develop a treatment plan and implement quality care designed to meet your specific needs. Dr. Cohen and his staff combine their extensive training and experience with the latest cutting-edge technology. Together, your health care team promotes the healing and strengthening of your injured areas so that you can return to your normal daily activities as soon as possible. Find out how we can begin helping you today.
Call us today for pain relief in our Fort Lauderdale office! (954) 202-9911